Maze

The Wye Valley Visitor Centre is at the very heart of the Wye Valley Area of Outstanding Natural Beauty, where the spectacular Upper Wye Gorge opens out briefly into farmland before the River Wye plunges back between cliffs overlooking the Wye. In the picturesque Wye Valley, the rolling hills south of Hereford shake hands with the Forest of Dean across the River Wye at Symonds Yat. 
There you'll find a community with famous attractions, exciting activities, specialty shopping, and great food beneath towering woods and hills to help you and your family get the most from your time in the countryside:
You can Walk with butterflies from around the world. Wye Valley Butterfly Zoo is indoors, it's tropical and it's teeming with exotic butterflies.Living butterflies fly around as you discover their fascinating lives in close-up. They're amazing. See for yourself every stage of their life-cycle: Egg, caterpillar, chrysalis and some of the world's most beautiful butterflies.The species they breed in their zoo have fascinating survival strategies, and there's loads to learn. Take a camera for superb wildlife photography.The Zoo shop has wonderful gifts, butterfly plants, and books on wildlife. It's a real treat.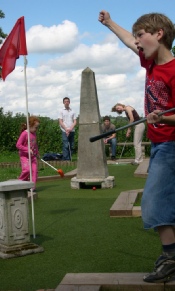 You can explore one of Britain's most famous traditional hedge mazes, with a romantic temple at the centre and over a kilometre of hedge planted by Lindsay and Edward Heyes in 1977.Find your way then play! This maze is a great place to play tag with all the family. Not up to running around? Play by stealth! There's a viewing platform for calling directions.
You can  play a twelve-hole roman miniature golf course.This is an outstanding outdoor course with all-weather artificial-turf fairways. The design unites a picturesque roman ruin theme, retro minigolf style and adventure golf features for ultimate playability for all ages.Everyone loves the challenge of minigolf, and this course is a real leveller so you never know who'll win.
For further details and opening times  please visit  www.wyevalleyvisitorcentre.co.uk
Thw Wye Valley Visitor Center is just 5 minutes away from the Wilton Court by car
.