Children activities
Events in Herefordshire August 2012
It's all happening in Herefordshire.  Come and meet the people and have a a great time.
The Herefordshire Country Fair
Dates: 5th August 2012 – 5th August 2012
Times: to be confirmed
Venue: Whitfield Court Estate, Wormbridge, Herefordshire HR2 9BA
Contact
The Secretary, David Probert
secretary@herefordshirecountryfair.co.uk
01432 851705
www.herefordshirecountryfair.co.uk
Description
The Herefordshire Country Fair takes place on the Whitfield Estate, a wonderful setting in the south of the county. Country Sports, from fly fishing to clay shooting competitions, gun dog trials, agility tests, terrier racing, show jumping and the inter hunt relay provide the traditional themes of the Fair. The main ring provides an exciting programme of events and there is great shopping too with stalls selling everything for country living and plenty of delicious things to eat and drink.

Garden Festival 2012 presents "A Hot Day in August"
Dates: 5th August 2012
Times: 11.00am – 5.00pm
Venue: Moors Meadow Gardens, Collington, Bromyard, Herefordshire, HR7 4LZ
Contact
01885 410318 / 07812 041 179
www.moorsmeadow.co.uk
Description
Garden Festival 2012 presents "A Hot Day in August" In aid of St. Michaels Hospice
A lazy Sunday music Festival with a garden party atmosphere with Blacksmith Demonstrations, refreshments, stalls and more set in the enchanting organic 7-acres of Moors Meadow Gardens & Nursery, voted "most romantic" garden in Central England and gaining international recognition for its huge range of plant and wildlife species, the originality of design and the unusual features and sculptures.
We are proud to announce the entertainment will include one of Britain's top Gypsy Jazz guitarists Remi Harris accompanied by excellent rhythm guitarist Ben Salmon who are most definitely not to be missed. Granny's Attic are a young band with great style and musicianship and also a 'must see'. The fiendishly folkish and extremely talented Foxtail Soup at what may be their last public appearance together. The superb instruments and voice of Horizon Lights, the ever popular sounds of Tony Burt & Friends with easy listening favourites and original music, Hilarious wordsmith "Everton" Ken Crowther and more.
Artist Blacksmith Joshua De Lisle is an skilled young craftsman who recently presented the Queen with a jubilee gift, he will enthral and delight you with his artistry.
There will be delicious home made refreshments throughout the day along with stalls and a ladybug hunt.
Guide dogs only.
Moors Meadow Gardens,
Collington, Bromyard, Herefordshire, HR7 4LZ.
4 miles North Bromyard.
6 miles South Tenbury on B4214
Pricing
Adults £5. Children 4-16yrs £1

Summer music in Malvern
Dates: 6th August 2012 – 10th August 2012
Times: Various
Venue: MALVERN WR14 2AY
Contact
www.cuillinsoundmusic.co.uk
Description
Summer music in Malvern with three special classical concerts featuring some of Britain's finest instrumentalists tutoring on the 'Malvern Winds' Chamber Music summer course at Malvern College.
Cullin sound on Monday 6th August at 8pm in St. Edmund's Hall, Malvern College.
Romance in the Winds…..on Wednesday 8th August at 8pm in Malvern Priory.
Malvern Winds on Friday 10th August at 3:30pm in Malvern Priory.
Pricing
Monday & Wednesday £10 (£8 concessions)
Friday Free admission

ime Travellers Go …. Gruesome .. Goodrich Castle
Dates: 7th August 2012 – 8th August 2012
Times: 11am to 5pm
Venue: Goodrich, Herefordshire HR9 6HY
Contact
Booking Secretary
01600 890538
www.english-heritage.org.uk/goodrich
Description
Can you stomach the more gruesome side of history? Not for the faint-hearted, take a journey into the horrors of ghastly punishments and terrifying tales from days gone by.
Pricing
£6.00 / £5.40 / £3.60 / £15.60
All children are welcome to join in the Time Travellers Go… events. An additional £1 will be charged on standard admission for every child, member and non member, to help us fund this entertainment activity.
English Heritage members free

Homme House Horse Trials
Dates: 7th August 2012 – 8th August 2012
Times: Public admission from 9.30am
Venue: Homme House, Much Marcle, Ledbury HR8 2NJ
Contact
Anne or Stella
07772 246428 / 07825 702116
www.britisheventing.com
Description
This is the only British Eventing fixture in Herefordshire. Cross Country, Show Jumping and Dressage, experience all three disciplines in just one day. International riders, trade stands, catering refreshments, all set in 100 acres of Capability Brown landscaped parkland. A great day out for all the family.
Follow the signs of the A449 between Ledbury and Ross-on-Wye.
Pricing
Free entry but donations to Air Ambulance greatly appreciated

Guild of Herefordshire Craftsmen
Dates: 11th August 2012 – 28th August 2012
Times: 10am to 4.30pm
Venue: Ledbury Market Hall, Town Centre HR8 1DH
Contact
Alison Payne
01432 769543
www.herefordcraftguild.org.uk
Description
Our Summer Exhibition at the Market House in Ledbury. Leatherwork, mirrors, photography, furniture, wooden artefacts, pottery, textiles and much more.
Pricing
Free admission

FESTIVAL OF WILDLIFE
Dates: 11th August 2012
Times: 11.00am to 5.00pm
Venue: Herefordshire Nature Trust, Lower House Farm, Ledbury Road, Tupsley, Herefordshire HR1 1UT
Contact
s.calder@herefordshirewt.co.uk
01432 356872
www.herefordshirewt.org
Description
The Herefordshire Nature Trust continues to mark its first 50 years of conserving and protecting Herefordshire's wildlife and endangered habitats with a Festival of Wildlife. The event will be held on the Lugg Meadows, one of its nationally important sites for particular wildflowers such as the rare snakehead fritillaries. The Festival will be a high point in the Trust's celebrations and will include an action packed day of wildlife activities, stalls and craft workshops to engage nature lovers of all ages.

Additionally there will be the chance to meet experts from the county's leading conservation groups and to learn about the Herefordshire Nature Trust's history as well as its current wildlife and training projects and volunteering opportunities.

Activities for all ages include wildplay, nature quizzes and trail hunts, live hedgerow and bumblebee surveys, fungi specimen identification (bring along any specimens you might want identifying) pottery, green woodworking, rare breed and animal exhibits and wildlife art exhibitions to mention a few.

The Woolhope Dome Farmers market and other stall holders will provision for the hungry and thirsty and there will be a demonstration of venison cooking.
Pricing
Admission: The event is free.

Time Travellers Go …. Myths & Legends .. Goodrich Castle
Dates: 14th August 2012 – 15th August 2012
Times: 11am to 5pm
Venue: Goodrich, Herefordshire HR9 6HY
Contact
Booking Secretary
01600 890538
www.english-heritage.org.uk/goodrich
Description
Discover a whole range of myths and legends, from St George to King Arthur. Magical stories, games and hands on activities.
Pricing
£6.00 / £5.40 / £3.60 / £15.60
All children are welcome to join in the Time Travellers Go… events. An additional £1 will be charged on standard admission for every child, member and non member, to help us fund this entertainment activity.
English Heritage members free

Bromyard Jazz Festival

Dates: 17th August 2012 – 19th August 2012
Times: various
Venue: HR7 4BT
Contact
Ticket Sales
01885 483034
www.bromyardjazzfestival.co.uk
Description
The Festival Programme for 2012 will again include a New Orleans style parade and a range of concerts at the Falcon and other venues in and around Bromyard.
Ben Holder, Jazz Violinist, the Bev Pegg Skiffle Group, Bob Kerr & His Whoopee Band & 52 Skidoo are confirmed with many others new and re-visiting.
Pricing
Early Bird Tickets now available: £40
4 days camping available at £20 eac

Longtown & District Show 2012
Dates: 18th August 2012
Times:
Venue: Llanwonog Farm, Longtown HR2 0LP
Contact
www.longtownshow.com

Description
Longtown, Herefordshire, is a small rural village situated at the foot of the Black Mountains, 14 miles from Abergavenny, 18 miles from Hereford and 15 miles from Hay-on-Wye, famous as a book town and home to the annual literary festival.
The old established Longtown & District show is a traditional country event combining a horse show, a dog show, livestock classes, produce, vegetable and handicraft classes, children's and family sports and games, rural craft demonstrations, many more attractions and, obviously lots of food and drink!

Ross Rowing Regatta
Dates: 25th August 2012 – 27th August 2012
Times: Various
Venue: Brooksmouth, Ropewalk, Ross-on-Wye HR9 7BU
Contact
Annie Williams, Regatta Secretary
regatta.secretary@rossrowingclub.co.uk
01989 562813
www.rossrowingclub.co.uk
Description
Ross Rowing Club is one of the success stories of the town, each year over the August Bank Holiday the Ross Regatta brings boat crews and spectators from all over the country. The river was always a major feature of the town and the club first came into being around 1870. Meetings were held in the local pub, the Hope and Anchor, and it wasn't until 1908 that the club could boast a boathouse. With a unique facility, geographically positioned on the famous horseshoe bend of the Wye the club has gone from strength to strength and is proud to represent this area in competitions in South Wales, the Midlands and in National competitions.
The regatta opens with Dragon Boat Racing on Friday for crews of ten and a complete programme of races is run on Saturday and Sunday. There are camping facilities next to the club, including a quiet field and breakfasts available on Saturday & Sunday. For full details and entry forms, contact the Regatta Secretary

Medieval Fighting Knights – Goodrich Castle
Dates: 25th August 2012 – 27th August 2012
Times: 11am to 5pm
Venue: Goodrich, Herefordshire HR9 6HY
Contact
Booking Office
01600 890538
www.english-heritage.org.uk/goodrich
Description
Step back to medieval times at Goodrich Castle this Bank Holiday weekend, and watch our knights do battle in thrilling live shows for all the family. Support your favourite as he uses his impressive skills to out-do his opponents in a brave fight to the finish! Also, soak up the atmosphere of times gone by with our medieval encampment and find out what life was like during this fascinating period.
Pricing
£7.60 / £6.80 / £4.60 / £19.70
English Heritage members: £1.60 / £1.40 / £1.30 / £4.10

eobley Annual Exhibition & Sale of Art
Dates: 25th August 2012 – 27th August 2012
Times: 10am to 5pm
Venue: Hopelands, The Village Hall, Gadbridge Road, Weobley HR4 8SN
Contact
Julie Peacock
01544 318322
Description
The 27th successive and successful year
The Annual Exhibition and Sale of Art will be held at Hopelands, Weobley's village hall, from 10am to 5pm over the August Bank Holiday – Saturday, 25th August – Monday, 27th August. With over 300 contemporary paintings from over 50 local artists to view and buy, and prices starting as low as £30, this is an Exhibition not to miss. The Artist in Residence, Marina Strangward, is a regular exhibitor at Weobley and well known for her wonderful seascapes. She will be on hand to talk to visitors about her paintings and painting technique.
Admission to the Exhibition will cost £2 with children under 18 free. To ensure children are entertained whilst parents enjoy the exhibition, pastels, coloured pens and paper will be provided. And next to the village hall is a brand new activity area for children of all ages.
It's a great time to visit this beautiful medieval village of Weobley which has many delightful places to eat. Lunch and light refreshments will also be available in the village hall. The Exhibition is mounted by the Friends of Weobley Parish Church, a non denominational group that contributes to the upkeep of the historic Parish Church in Weobley.
For further information please telephone 01544 318322
Pricing
Admission: £2.00
Children under 18 are free

ay Fayre
Dates: 25th August 2012 – 26th August 2012
Times: 10am – late
Venue: The Globe at Hay Newport Street, Hay on Wye Hereford HR3 5BG
Contact
events@hayfayre.co.uk
01497 821762
www.hayfayre.org
Description"Organised by the same team that brought you 'How The Light Gets In', comes Hay Fayre. Whatever you're after; Craft fair? Food market? Festival? We'll have a bit of all three!"Hay Fayre is an exciting and unique series of events launching in the summer of 2012. It challenges the notion of the traditional fair with a flavour of the extraordinary.

Hay Fayre finds its home at The Globe, a prestigious café and arts venue in the quaint market town of Hay-on-Wye. Stood in the beautiful Brecon Beacons National Park and internationally renowned for its literary and philosophy festivals, the town wins the hearts of all who visit. Summer months see thousands of tourists passing through, keen to experience the unique shopping and rich culture, to which Hay Fayre will undoubtedly contribute.
Doors open at 10am for shoppers, browsers and curiosity seekers. Free live acoustic music begins at lunchtime through until the evening, when the Saturday Sessions in the main globe take place. The colourful Acoustic Tent won't be getting much rest. Drop by and check out our riotous, rolling day-to-night programme of music, comedy, spoken work and talks – there's a bit of everything in the mix and much of it free. A mini-festival of its own!

Land Rover World Show at Eastnor Castle
Dates: 25th August 2012 – 26th August 2012
Times: 9am – 4:30pm
Venue: Deer Park, Eastnor Castle, Ledbury, Herefordshire HR8 1RL
Contact
Land Rover Offroad Experience
eastnor@landroverexperience.com
01531 638779
www.eastnorlandrovershow.com
Description
They say an Englishman's home is his castle but this August Bank Holiday weekend why not make Eastnor Castle your home and enjoy a slice of country life at inaugural Eastnor Land Rover Show. Enjoy camping and caravanning in the stunning setting of the Deer Park, with the castle itself and the majestic Malvern hills offering a stunning backdrop.

Hereford River Festival on the River Wye
Dates: 27th August 2012 – 27th August 2012
Times: various
Venue:
Contact
Rob Soutar
01432 850448
Description
Hereford River Festival features a Duck Race, started by the Mayor of London, and includes exciting Dragon Boat Racing and a range of activities for all the family.
Further details to follow.
Organised by the City of Hereford Rotary Club raising funds for charities.

Hereford Race Day
Dates: 30th August 2012 – 30th August 2012
Times: First race at 5pm
Venue: Hereford Racecourse, Roman Road, Hereford HR4 9QU
Contact
Hereford Racecourse
info@hereford-racecourse.co.uk
01432 273560
www.hereford-racecourse.co.uk
Description
Situated on the edge of the Cathedral City that forms a natural gng.

Tickets from £14.00

Broome Farm Cider Festival
Dates: 31st August 2012 – 2nd September 2012
Times: from 7pm on Friday 31st August
Venue: Broome Farm, Peterstow, Ross-on-Wye, HR9 6QG
Contact
Phil
info@rosscider.com
01989 567232
www.rosscider.com
Description
Friday 31st August: The festival kicks off at 7 pm to a lively start with a Ceilidh. Hilary and John will be doing their usual quality food during the evening.
Saturday 1st September: Breakfasts from 8 am. to 10 am.. Pressing demonstration. Opening at midday meet the Cider Makers. We anticipate up to 20 Cider Makers including some new to our festival
Live Music from 2 p.m.
As always, Hilary, John and their team will provide a selection of excellent food from lunchtime.
Sausage & Cheese Sunday 2nd September – free entry!
Breakfasts from 8 a.m. to 10 a.m.
Market and Music from 11 a.m. to 4 p.m.

Vintage Summer Street Fayre
Dates: 31st August 2012
Times: 9am – 4pm
Venue: High Town, Hereford, HR1 2AA
Contact
City Events Manager
scallaghan@herefordshire.gov.uk
07837 641857
Description
Vintage Summer Street Fayre is a street market of over 25 local vintage businesses, selling vintage clothing, accessories and jewellery, vintage homewares and kitchenalia and vintage "make do and mend" crafts.
Vintage Entertainers will be singing and dancing the 40s/50s and there will be a Jive Demo.
Ice Cream and holidaying with a vintage twist too!
This is a first for Hereford!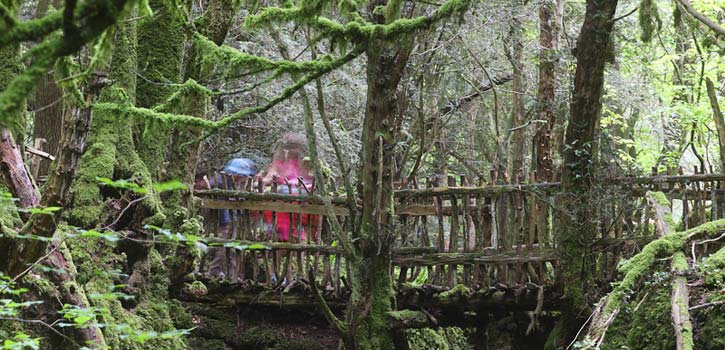 Now the sun is shining and the weather is warmer why not take a trip to Puzzelwood in the Forest of Dean
Could it be the maze of pathways winding through the gulley's of mossy rocks, the twisted roots of the yew trees or the bridges, lookouts and other things you can find on your way round?
Puzzlewood is a unique and enchanting place, located in the beautiful and historic Forest of Dean. Explore a mile of meandering pathways, with its fantastic tree and rock formations, through this 14 acre ancient woodland. It has an atmosphere quite unlike any other wood you have visited. JRR Tolkien is reputed to have taken his inspiration for the fabled forests of Middle Earth from Puzzlewood, and it's easy to see why. Continue reading →